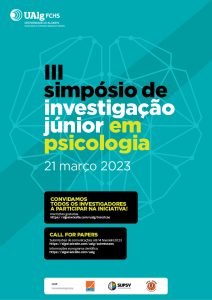 The third edition of the Junior Research Symposium in Psychology is coming up, with a confirmed date for the day March 21, 2023 (in-person format). As in previous editions, the target audience will be students from all cycles of the Psychology course, with a view to sharing the work carried out among students of the 2nd cycle, former students, colleagues and all those involved in research projects in the area of Psychology.
 Call for Papers: send the works to https://sijpsi.wixsite.com/ualg/submissoes.
ANDthis period will end on February 14, 2023.